Here in BIOFIAL HYDRAULICS, our export department has a precise view both of the countries and the customers that our products are exported, but usually we do not know which is their final use, where they are installed and what need they serve.
It is well known that BIOFIAL HYDRAULICS' strongest asset is the ability to customize any hydraulic application. We can examine, calculate, design, produce and implement any project, no matter how unique its specifications might be.
But having in our clientele more than 1000 active customers and exporting in 33 different countries worldwide, we cannot keep track of the final applications that the products are meant for.
Fortunately some of our closest customers are sharing with us some of their special projects where BIOFIAL HYDRAULICS products are used and we are pleased to share them with you. So, below we are honored to present some of the most recent applications that we feel are worth mentioning:
Project Kosovo
In this project our client wanted a twin system of hydraulic cargo elevators to be used in the major pharmaceutical warehouse "LIRI MED". BIOFIAL HYDRAULICS undertook the whole production of those twin hydraulic cargo elevators, meaning the hydraulic cylinder, the power unit, the car frame, the steel construction, as well as the installation of the elevators.
Selexyz Van Piere Bookstore in Eindhoven
This project was a pleasant surprise for us! The Selexyz Bookstores is a well-known brand for Netherland's booklovers. This project includes a customized hydraulics passenger elevator, located inside the store that takes the visitors to one of Eindhoven's best coffee shops that is hidden downstairs! This installation has been made by our main cooperator in the area, LIPRO ENGINEERING b.v. and it is a 2:1 suspension hydraulic lift, operating with electronic valve power unit.
Supermarket Chain in Romania
In this case we have undertaken a project in one of Europe's most competitive markets and have already produced several hydraulic scissor platforms for a well-known supermarket chain in Europe. Those hydraulic scissor platforms for cargo loading had to be designed individual for each installation under very strict regulations and our Romanian cooperator is installing them with ease, due to the ergonomic construction of our products.
Automated Cargo Lift in Ireland
This application might seem like a simple hydraulic compact cargo platform, but there is more than meets the eye. It is used for the transport of freight containers via conveyor automatically. The elevator control system is specially designed so that the automation process communicates with the elevator controls. Via Modbus / TCP this elevator receives commands such as to reach a desired stopping point. Moreover, the process receives continuous feedback on the position of the elevator and its status so that the lift can be displayed and controlled through its software program. This version has a capacity of 2800 kg and the course of the BIOFIAL HYDRAULICS 3-stage telescopic  cylinder is over seven meters. The BIOFIAL HYDRAULICS power unit operates with an EV4 Blain block of valves and this specific cargo platform is being used for the transport of containers. Another customized project that was undertaken by our client LIPRO ENGINEERING b.v.
Fire-station in Netherlands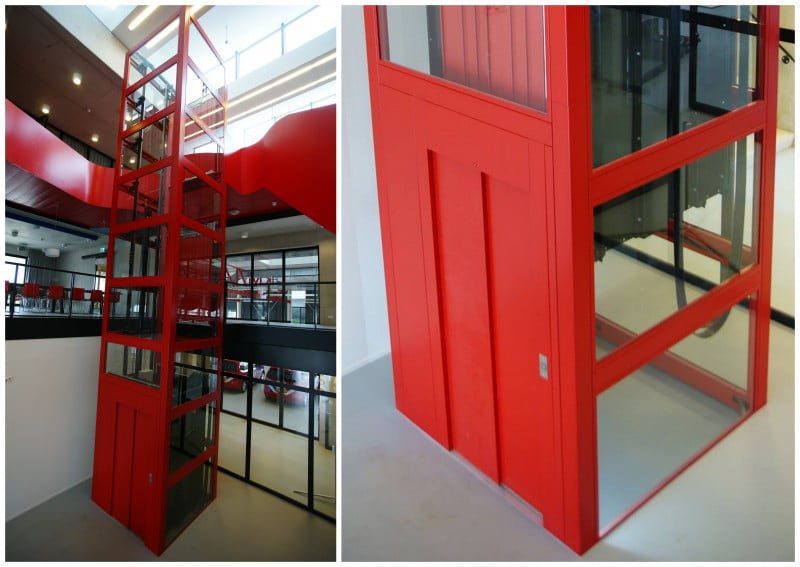 Yet another special project that was implemented in Netherlands is this one located in Sittard's state fire station. As the pit of this elevator was only 15cm in height and a sleek glass shaft was to be installed, a meticulous attention to the esthetics of the whole project had to be considered. Also, this hydraulic passenger lift features a very quiet and energy-efficient hydraulic drive with frequency control. Moreover, this control provides continuous monitoring over the internet, which is  significantly more efficient when the maintenance inspection is performed. It is a 2:1 suspension hydraulic lift, a special project that was also undertaken by our client LIPRO ENGINEERING b.v. in Netherlands.
Customized Car Frames in Albania
Besides the top quality hydraulic cylinders and the power units that BIOFIAL HYDRAULICS produces, our customized car frames are beyond comparison. And that is the reason that one of our numerous customers in Albania, LIFTECH Sh.P.K., has installed many throughout this territory. These car frames were custom made and specially designed for each installation by BIOFIAL HYDRAULICS, according to the specifications of the each project.
Car Stacker Systems in India
One of the numerous hydraulic application that is in high demand at the moment in India is implemented by the use of BIOFIAL HYDRAULICS cylinders and power units. These kind of projects require specialized cylinders that can handle such loads and operate in precision with the whole construction. One of our greatest cooperator in the Eastern market, ESKAY ELEVATORS has been constructing such systems and has been showcasing them in the IEE EXPO 2014 MUMBAI fair.