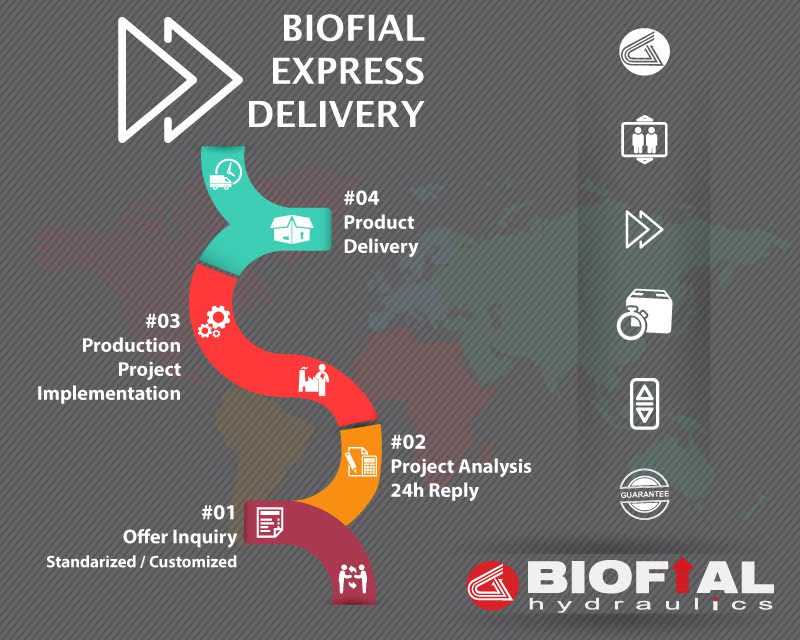 BIOFIAL HYDRAULICS has always been known for the premium quality of its products and the excellent service, along with the direct and open communication that develops with its clients. This diptych differentiates BIOFIAL HYDRAULICS from the completion that exists in the international market.
 But are you informed about our delivery time?
 Do you know what "express delivery" means for us?
BIOFIAL HYDRAULICS has the ability to offer to its clients complete solutions to their inquiries in less than 24 hours after receiving their request. Our offers include thorough planning of the project, with all the specifications included, even plan views and technical drawings. We want and we can offer to all of our cooperators the best fitted solutions for their quotations. This is why, in many cases we reply back with different alternative proposals, equally suitable and safe, in order to offer to our customers the choice that they prefer. So, in every inquiry we receive, we can state with confidence that our reply consists of not only an economical proposal, but of a complete project study of pure customization.
Some say they make fast deliveries in their standardized products. We GUARANTEE express delivery! And we guarantee express delivery not only for the standardized products, but most importantly, for the pure tailored-made products according to any customers' specifications.
From the moment that we receive the confirmation of a project, it is forwarded in the engineering department for all the final calculations and from there in manufacturing department within the same day. Having a 42 year-old experience in standardized and customized hydraulic product manufacturing process, has equipped us with the ability to produce hydraulic products, components (power units, pistons, car slings, etc) or complete solutions (cargo lifts, scissor platforms, car lifts, etc) in a minimum time frame that other companies need for the delivery of their standardized products.
BIOFIAL HYDRAULICS "Express Delivery" service practically means:
Hydraulic parts such as cylinders, power units, car slings: min. 2 days – max. 10 days
Custom made telescopic cylinders: min. 5 days – max. 15 days
Complete Hydraulic Sets (cylinder + power unit + car sling): min. 1 week – max. 2 weeks
Compact Cargo Lifts: min. 1 week – max. 3 weeks
Complete Hydraulic Solutions (Scissor Platforms, Hydraulic Car Lifts etc.): min. 2 weeks – max. 4 weeks
This explains why our international clients refer directly to BIOFIAL HYDRAULICS when they need the best quality in special tailored projects, guaranteed to be delivered in the shortest possible time period. Our express delivery service, along with the known, consistent and friendly customer assistance we offer to all our clientele, former and new, proves how BIOFIAL HYDRAULICS understands and implements the importance of time for every customer, in every sector, in every market.
Thus, when you need a reliable supplier to respond to your standardized or customized project demands within the same day, offering you a technically constant solution, in express delivery time, we challenge you to apply to BIOFIAL HYDRAULICS.
Because while others claim that they offer quick delivery, we DO offer "Express Delivery" of premium hydraulic products!